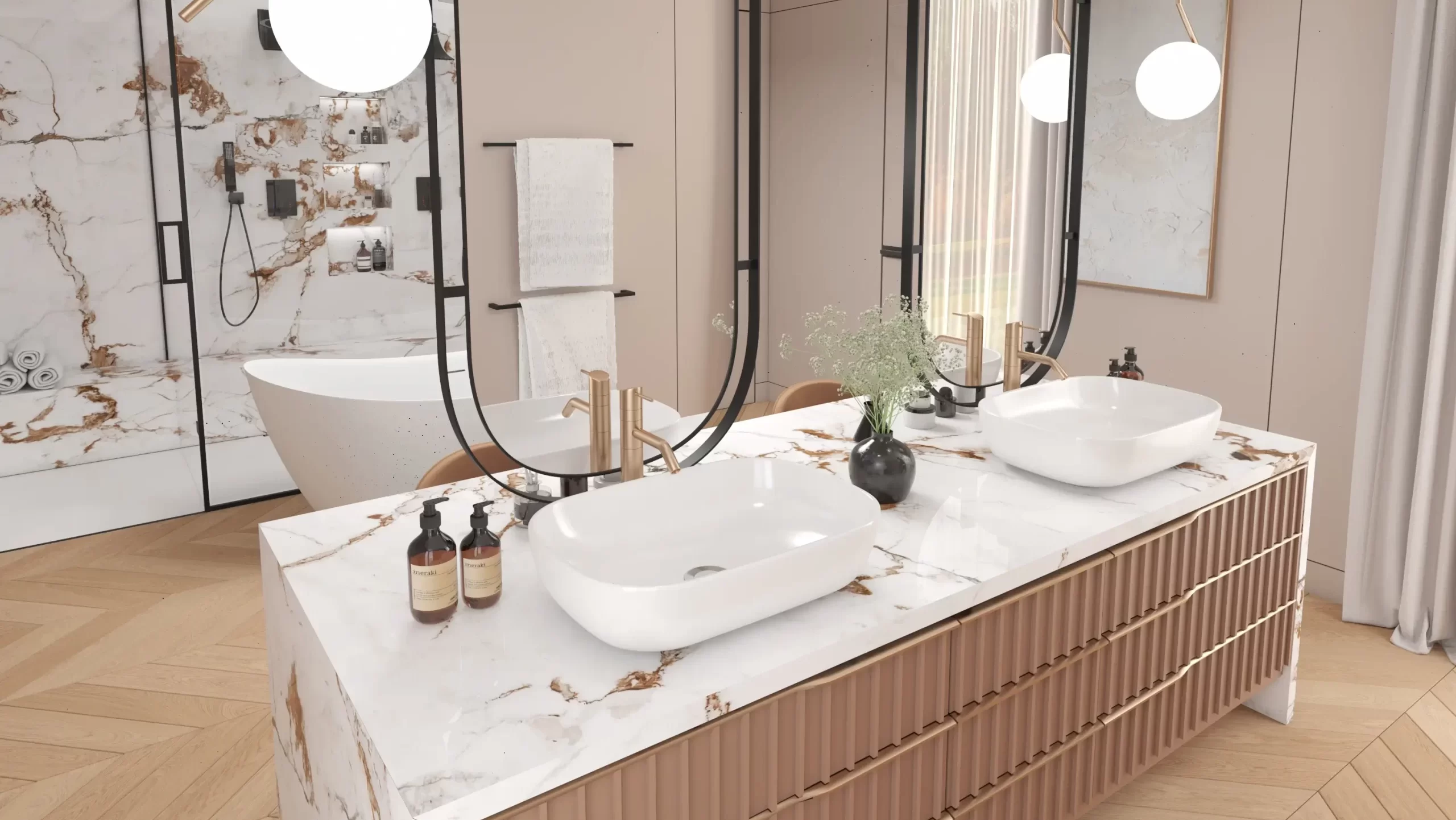 Immerse yourself in the exquisite world of design as we present to you our latest creation: a breathtaking bathroom that transcends boundaries and redefines opulence.
Stepping into this space is akin to stepping into a haven of tranquility. The fusion of warm tones and the gentle embrace of natural light, streaming through expansive floor-to-ceiling windows, transports you to a realm of serenity. Our journey into the design of this stunning bathroom has been a delightful endeavor, resulting in a masterpiece that embodies both luxury and functionality.
At Ariana Designs, we believe in the power of details. The selection of oversized, contemporary tiles in earthy hues combined with marble like tiles with brown and golden like veins, serves as the foundation of this elegant oasis. These tiles not only exude modernity but also establish a seamless connection between the indoors and the outdoors. The inviting wooden-like floor complements the tiles, inviting a tactile experience that bridges the gap between nature and design.
However, our focus extends far beyond aesthetics alone. With Ariana Designs, every element is thoughtfully curated to serve a purpose. The modern masterpiece we've crafted here is a testament to our commitment to both opulence and functionality. This bathroom isn't just a visual delight; it's a sanctuary dedicated to rejuvenation and relaxation. Every fixture, every layout choice, every design element has been carefully selected to create an environment that supports your well-being. The vanity, an earthy-hued masterpiece that seamlessly merges with its surroundings. Its textured front panels are a tactile wonder, echoing the textures throughout the space.
It's not just textures that captivate; contrasts play a captivating dance. Mirrors in bold black frames create a stunning contrast against the warm palette, amplifying the design's tension. Carefully chosen light is an artistic element that breathes life into every corner, orchestrating a symphony of textures, hues, and contrasts. The chosen illumination isn't an afterthought; it's the conductor that transforms the design.
Whether you seek solace in a warm bath, bask in the glow of natural light, or revel in the seamless blend of contemporary design and natural elements, we have created a space that caters to your senses.